HAZOP Manager Version 7.0 is a comprehensive Personal Computer program for the management of Hazard and Operability Studies (Hazops) and other similar safety-related reviews*. It is currently helping many companies throughout the world to conduct more efficient and effective studies. The software incorporates features and facilities that: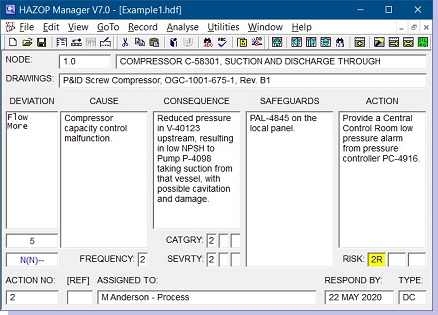 Serve as a framework within which preparation for the review can be structured.
Ease the task of recording the meeting minutes, and help to maintain the team's focus of attention and interest.
Give speedy access to material useful to the study team, such as previously identified problems, failure rate data and other such historical information.
Allow professionally formatted reports to be produced with the minimum of effort.
Permit additional management information to be extracted from the study records.
Provide a comprehensive and easy to use system for effective action follow-up and close-out, without the significant administrative burden that this usually entails.
To learn more about the HAZOP Manager software, and how it can help you in your safety, health and environmental review work, please use the menu displayed at the top of this page.
* As its name suggests, the software is most frequently employed to record and manage Hazop Studies, as arguably this is the most widely used loss-prevention technique. However, it is designed to be easily configured for use in other familiar methodologies such as Process Hazards Analysis (PHA), check-list driven Hazard Identification Reviews (HazId), Risk Assessment Studies, SIL Analysis, Failure Mode and Effect Analysis (FMEA), etc. As an indication of its flexibility, users have also employed the program for Project Cost & Schedule Risk Management, Workplace H&S Regulatory Compliance Reviews, Hazards of Construction Reviews, Preliminary Hazards Analysis, Conceptual Project Studies, and so on. In other words, the software can be utilized for most reviews where it is required that the results are both recorded and reported, and which generate actions that need distribution and subsequent verification that they have been satisfactorily completed.