Demonstration program
The easiest way to gain a full appreciation of the comprehensive and versatile nature of the HAZOP Manager software is to run the demonstration program. This contains a series topics, each consisting of a software simulation with accompanying explanatory text. These topics illustrate the program's structure and operation, as well as its more important features and facilities. Whilst viewing a topic, you may use its controls to pause, rewind or speed up the simulation. Note that to view the sample reports that are included in the demonstration, the Adobe® Acrobat Reader, Microsoft® Word and Microsoft® Excel should be installed on your computer.
Two options are available:
Click image to run demonstration.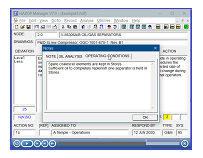 Run demonstration
Click image to download a zipped file.

Download zip file installation
HM7Demo.zip (38 MB)
Instead of running the demonstration directly from this web site using the above option, you may alternatively download a zipped installation. This will allow you to install the demonstration files on your computer, as well as those of your colleagues if necessary. The downloaded file will need to be manually decompressed (using for example the inbuilt facility within Windows, PKZip or WinZip), with the demonstration files being extracted into a new folder (directory) specifically created by you for this purpose. After extraction, an A_ReadMe.txt file within that folder will contain further instructions with regard to both running, as well as subsequently deleting the demonstration from your computer.
If you are considering investing in software such as the HAZOP Manager program, and you wish to obtain further relevant information such as prices, system requirements, etc., please e-mail Lihoutech Sales, including your company's name, full address and telephone number in your message.